2nd Avenue Archive: Yiddish theater in New York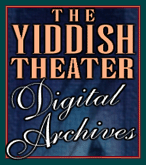 2nd Avenue Archive: Yiddish theater in New York
This collection contains digital artifacts from "Second Avenue Online", a web based project created in 2000 by New York University's Center for Advanced Technology, in conjunction with the NYU Libraries to commemorate the history of Yiddish theater. Collection contents include oral histories, music, photos, posters, manuscripts, scores and letters.
The Yiddish Theater Celebrated and Remembered
Yiddish theater in New York and across the United States had a vital impact on the American entertainment industry and the evolution of 20th-century American culture. 2nd Avenue, once lined with Yiddish theaters and rivaling Broadway as a center of theatrical production, had a formative and ongoing impact well beyond the confines of New York's Lower East Side. Yiddish theater's influence can be traced in the comic tradition of the Catskills, in early television, Broadway shows like Fiddler on the Roof, and the work of well-known performers as diverse as Molly Picon, Paul Muni and Leonard Nimoy. Teachers like Stella Adler and Lee Strasberg, who would reshape acting in the 20th century, had their first taste of theater along 2nd Avenue.
The Second Avenue Online project employs digital technology to preserve this invaluable historic resource and to make it available to the widest possible audience. Through oral history, video and audio recordings, photographs and a wide range of information about the institutions and the people that made Yiddish theater a living tradition, Second Avenue Online seeks to capture the memory and to convey the feel of 2nd Avenue as a living part of the history and culture of New York and America.
Second Avenue Online is a project of New York University Libraries.
Collections and sub-communities